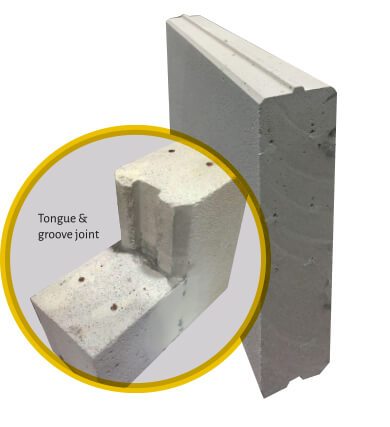 Besta™ ALC (Autoclaved Lightweight Concrete) Panel is a sustainable green building material for simple and effective construction. These panels are made of cement, lime, gypsum and aluminum additives that help create bubbles within, hence making the panel lighter and thermal efficient.
The tongue and groove of these panels makes the joint more secure and tight in terms of water leakage and with its lightness in weight, makes the installation easier and faster.
Low Contamination
Besta™ ALC Panels are produced with precision, only allowing for a 1.0 mm tolerance for length, height and width. This level of precision makes it possible to avoid cracking by way of coating thin mortar and putty.
Dry Construction
Installation is a dry and continuous process, and not as restrictive as that of masonry or bricks, thus enhancing the speed of construction. Using a special adhesive on the joints allows dry surface panels to achieve adhesion. ALC surface can be directly coated with plastering putty/skim coating and ready to achieve painting finishes.
Fire Resistance
Besta™ ALC Panels constitute inorganic and non-combustible materials, and is an ideal Class A fireproof construction material. A 100mm thick wall can resist fire for as long as 4 hours. With the presence of bubbles in the panel, thermal conductivity is high and heat is migrated slowly. In the event of fire incident, ALC panels will not release any smoke or toxic gas. Even a 50mm panel can effectively resist and prevent the spread of fire, and protect the structure from the impact of the fire. Compared to traditional forms of build, it is a safer, more economical and reliable system for energy conservation and heat insulation.